I float in a seawater hydromassage bath as a series of jets go about their ritual on my body, gently pummelling my muscles. The experience is step one in a trilogy of signature treatments at Morocco's new five-star Vichy Celestins Spa Hotel Casablanca.
As I'd been led to the room, I was promised that this rather regular-looking bathtub would be an above-average soak, and it certainly is. Designed for deep muscle relaxation, the experience is enhanced by softly changing coloured underwater lights, said to affect mood, and a fizzy bath bomb made from effervescent pebble salt and micro seaweed from Vichy, France.
Next is a mineral-rich mud wrap, where a concoction made from salt, Vichy microalgae and mud from the Moroccan mountains is slathered on before I'm wrapped in a heated blanket and plastic, to tone, detoxify, relax muscles and ease osteoarthritis.
Having rinsed off, I sip a cold cucumber water and while cooling down I cross paths with my companion.
Already in Zen-like states, we both agree we're feeling relaxed and energised. The third treatment is the Vichy two-hand shower massage, a 25-minute full-body massage while lying under a shower of Vichy water that aims to soothe weary muscles and provide deep relaxation, and it basically feels like I have floated up to heaven.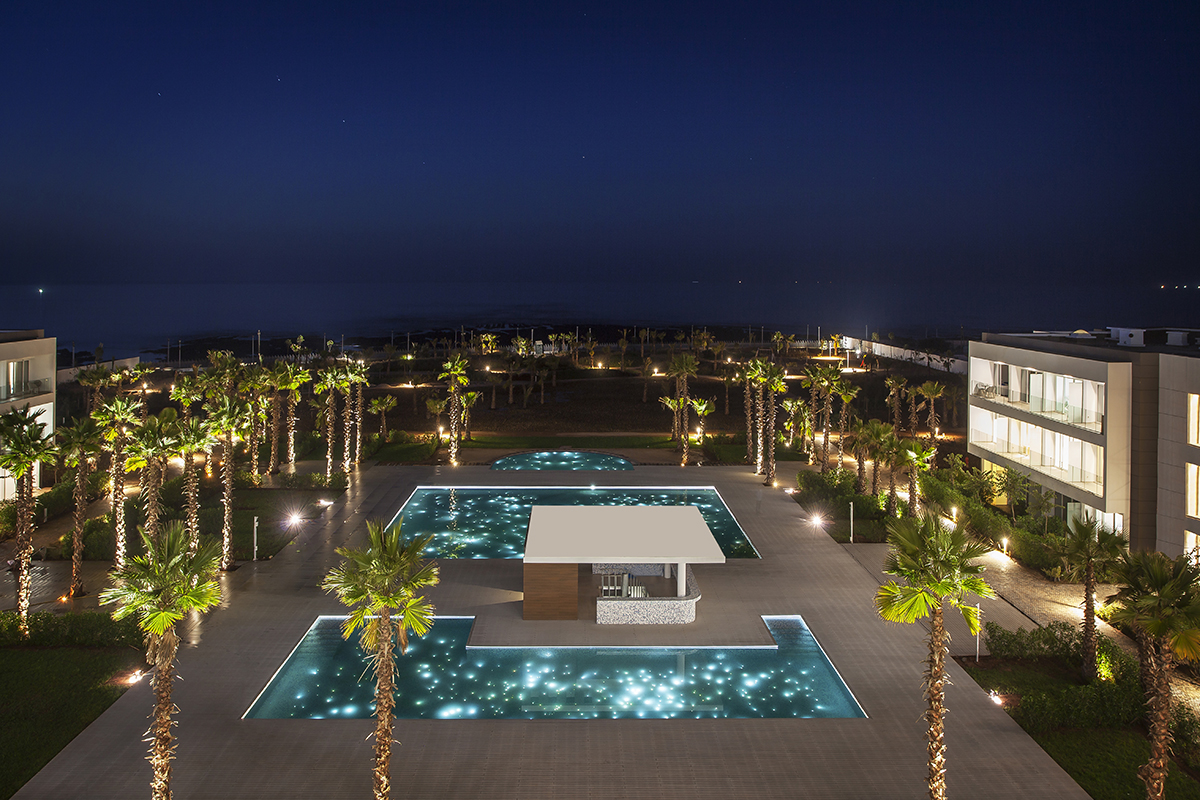 The signature trilogy treatment is a Vichy classic that dates back to 1896 in the renowned French spa town, where thermal waters have been used for their healing and therapeutic properties for centuries.
Vichy gained its international reputation as a spa town in the 19th century when Napoleon III built a thermal resort there. French icon Madame de Sevigne was a fan, as were Russian royalty over the years.
Today, the Vichy empire is expanding, with a series of international resorts that are drawing in new as well as regular Vichy guests who, we're told, proudly regale stories of their parents, grandparents and great-grandparents all visiting Vichy spas.
Opening its doors in 2018, Vichy Celestins Spa Hotel Casablanca is an elegant and contemporary five-star hotel fronting the Atlantic Ocean on the coast of Morocco.
Modern Luxe
From the outside, its modernist white building, pools and palm trees have a Miami vibe but this is not really a place to party. The focus here is on health, wellbeing and luxury, which is felt from the minute we arrive and we are swiftly offered vibrant green detox shots.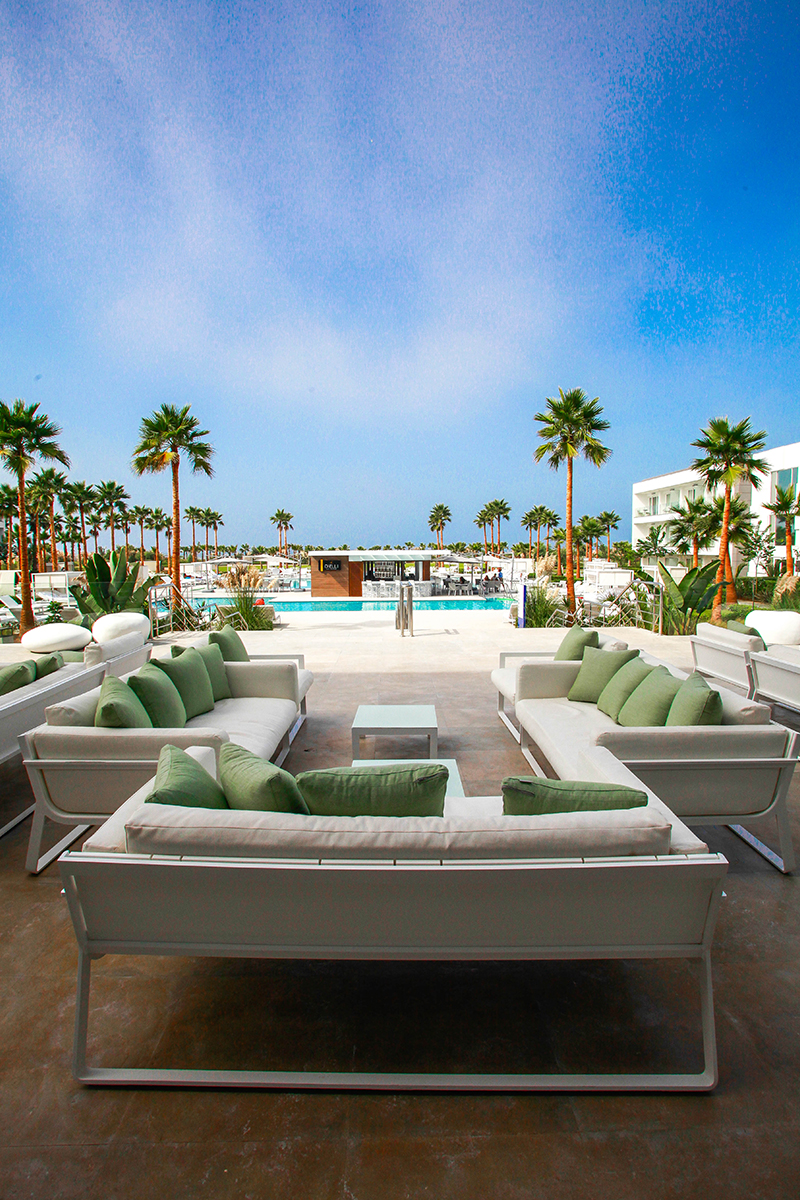 From the super-high ceilings of the reception area dangles an enormous Philippe Starck sculpture made up of hundreds of aquamarine and white glass baubles, seeming to fizz up from the water feature below it.
The dominant colours throughout the hotel are a combination of white, yellow and blues – deep Vichy blue, aquamarine and a more serious teal in the library and meeting spaces. It's an intentional palette of vibrant hues for the wellbeing-focused hotel, meant to symbolise water, vitality and invigoration. The design concept is 'Vichy', not Moorish like so many other hotels in Morocco, points out general manager Aurelie Denoueix. "We wanted something that felt peaceful and had a wellbeing focus, but was also peppy,"
she adds of the hotel's bubble motifs and interior style.
Of course, a colour palette alone won't revitalise, and guests come to enjoy the rest of the hotel, whether it's for a health and wellbeing holiday – there are anti-stress and weight-loss programs available, for example – a family holiday, or to make use of its convenient location midway between Rabat and Casablanca, as many business travellers do.
Vichy Water Everywhere
Water is revered for its health benefits around here, and Vichy water especially so. It's not only used in the wellness centre, but big bottles of it are in every room, it's used by the chefs in the restaurant kitchens, and it's even in the cocktails.
There are 130 luxury rooms and suites – each with a large balcony and golf course or ocean and pool views – three outdoor pools, an international restaurant and a dietetic restaurant, which is like an extension of the wellbeing area, where guests are welcome to dine in their robes. Located in Bahia Golf Beach, guests also have quick access to an 18-hole golf course and its adjoining club house. And let's not forget that wellness centre.
Meanwhile, a private elevator whisks Moroccan royalty and any other VIPs to the private wellness centre – an ultra-luxe miniature version of the rest of the space, complete with treatment rooms and a stunning black-and-white tiled hammam. The hammams in the main part of the centre are equally good and I admire the ornate tiles as I quickly work up a sweat in the steam room before joining an aqua spin class in the indoor seawater pool. Elsewhere in the pool, people swim laps, embrace the hydro jets and one woman looks particularly relaxed in a specially constructed flotation area.
The hotel is located just under an hour from both Rabat and Casablanca and I visit both over two days. Highlights of Rabat include the incredible pirate history and lush Andalusian garden of the 12th-century Kasbah Oudaya, as well as the maze of photogenic vivid blue laneways in the old town, and its surprisingly hassle-free souk. The next day in Casablanca, after more markets in the New Medina, we sip mint tea alongside locals in the French quarter. The next stop is the impressive King Hassan II Mosque, the third largest in the world, followed by the Royal Palace of Casablanca, which is worth a look even if visitors can only get as close as its elaborate entrance.
While I'm not averse to big, buzzing cities, after mornings exploring Morocco's history and culture, the peace and tranquility so carefully concocted at Vichy Celestins is a welcome respite – arguably best enjoyed by the outdoor pool with a Vichy water cocktail in hand.
Source: The CEO Magazine