Essentially, your Disney VIP tour guide is an unlimited Fast Pass. Hiring a guide doesn't afford you the chance to skip  directly to the front of the line, instead your guide is your free ticket to enter every ride's Fast Pass line as many times as you want (and repeatedly if you so desire).  Fast Pass lines are not generally longer than 10-15 minutes. Each VIP tour guide can take a maximum of 10 people around the parks.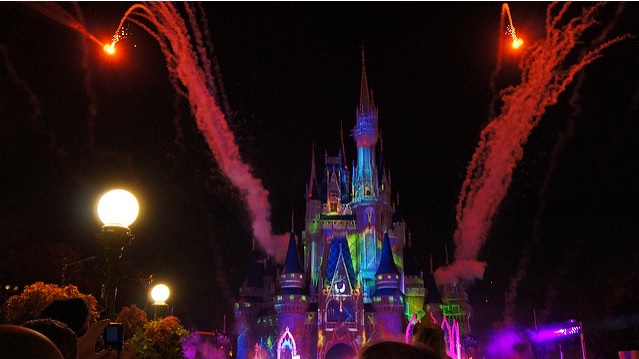 Your Disney VIP Tour Guide will pick you up at your hotel in the morning to devise a plan of exactly what attractions you want to hit. Then they will whisk you away in a private vehicle to your first stop (bye-bye Disney World public transportation!). You'll enter the parks through their back-door entrances closest to the attractions you're looking to visit. This saves you tons of travel time between parks and hotels, leaving you more time to spend enjoying the Disney magic!
Guides also are able to get your preferred event seating at shows and parades. Also, want to sit in the front row on your favorite ride? Or the back? Your guide will make sure whatever seat you want is yours. And, if you want your kid to star in the show next to Mickey mouse, while not guaranteed, your guide can definitely help!
Prices vary based on whether you're a Disney hotel guest or not and also whether it's holiday season (which is of course their busiest time of year). Prices start at $315/person/hour and there is a minimum of 6 hours to hire a private Disney VIP Tour Guide. Park admission is not included in these prices.
Not bad when you consider that you could conceivably see all four parks (Magic Kingdom, Hollywood Studios, Animal Kingdom and EPCOT) in just one day,
It's a truly magical experience! Here are the best parts of the experience.
1. You can skip the lines–obviously that has to be number one!
2. You get to learn insider knowledge, all of the guides have had extensive training about the Parks' history and they can give you a bit of behind-the-scenes information.
3. Visit multiple theme parks in one day if you're on a short trip.
4. No public transportation or searching for your car in the parking lots.
5. This is the only way to experience Disney World stress-free!
You and the kids should make plans!
Source: The Pursuitist