Brooklyn-based Nigerian-born visual artist, musician and activist Laolu Senbanjo or Laolu NYC as he is also called, blasted into the international art and lifestyle scene like a meteorite in 2016 when his unique art was featured in Beyonce's highly visual album – Lemonade.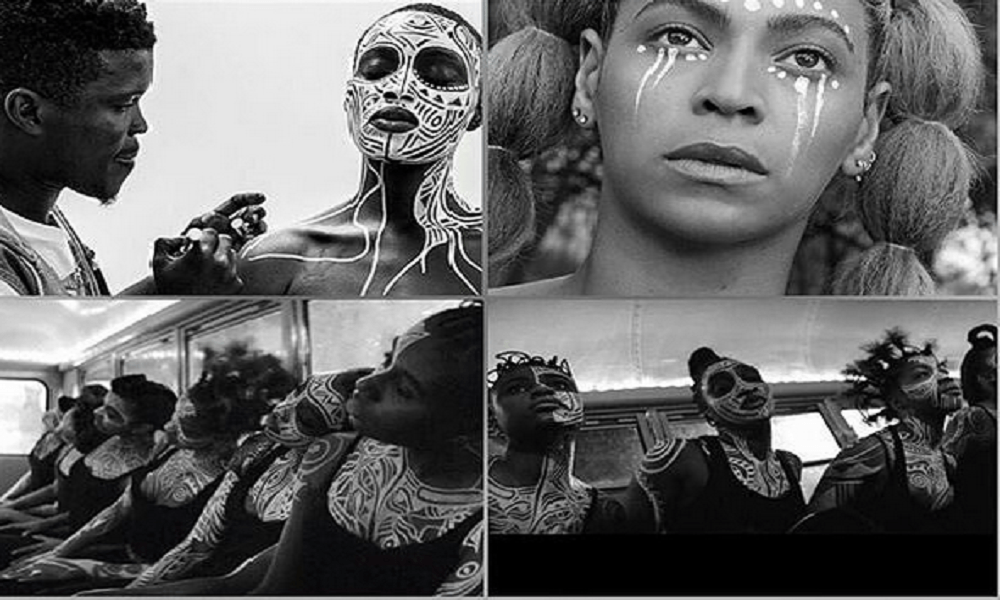 It is almost unfair that his amazing art only became public knowledge after he was featured on the Lemonade album. In June 2015 almost a year before his work with Beyonce, Laolu's new mantra became "Everything is My Canvas" and he began painting on everything from shoes, to jackets, to people. Laolu has coined his style of art, Afromysterics, meaning mystery of the African thought pattern and it incorporates African themes and African traditions. He uses charcoal and distinct patterns to create complex, story-rich art designs that draw heavily on his Yoruba heritage and feature ancient Nigerian symbols and patterns. Laolu says his Nigerian roots are a major source for his visual inspiration. Though his visual references have been described as sharing "affinities with Jean-Michel Basquiat and Keith Haring".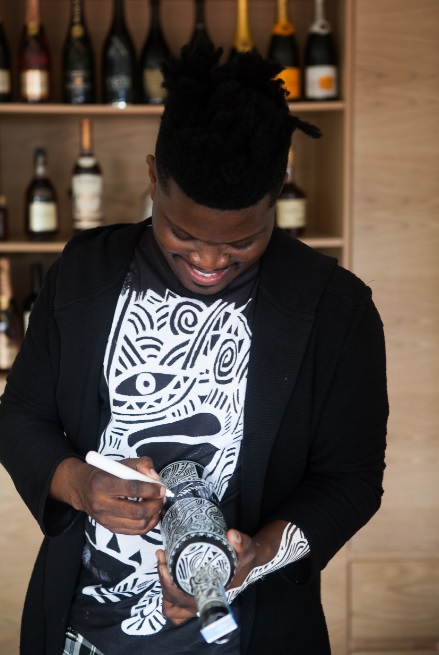 He has since graced the cover of the Washington Post, had features in the NY Times, Vogue, BBC, CNN, VICE and more. His ever growing list of collaborations have been with brands like Kenneth Cole, Nike, Equinox Fitness, and with other artists such as Alicia Keys, Swiss Beatz, Seun Kuti, Tony Allen, Alek Wek, and Danielle Brooks. You can find his music on iTunes, Spotify and Apple Music, listen to his TED talk on TED.com and can also buy his cologne Bvlgari's Black Essence featuring his original Art work at Bulgari.com. His most recent collaboration is with Belvedere Vodka to launch the new 2018 Limited Edition Bottle. Laolu was in Nigeria from the 24th – 29th of September to unveil the new limited-edition bottle alongside other memorable activities.
In Conversation with Laolu Senbanjo begins now…
ALM: What are people most surprised about when they get to know you?
LS: I don't know but what I get a lot is 'Wow, you're so humble…you're so down to earth' and it's pretty amazing for me that I have been able to do all that I am doing, there have been such amazing opportunities and I've never felt more alive doing art. 
ALM: You call yourself a keeper of the Yoruba culture, what does that mean?
LS: Let me break it down. A lot of my art is inspired by Yoruba mythology and inspired by culture, philosophy too. Artists like Nike Okundaye, Tola Wewe have been some referrences for me over the years as an artist. I would like to say that they have done an amazing job and for me… I just want to take our art and the style, elevating it to the next level – that's essentially how the Afromysterics came to be my thing. So we can rub shoulders and be on the same level with other shared cultures of the world, because I see a lot of that representation everywhere. Until now, I don't think that we have truly valued what we have. This collaboration with Belvedere Vodka is just an example of how far art can go..art can be on anything! Art should not just be in galleries and museums but something that we can carry around, so I love to put art on skin…bottles…shoes and that has been my journey. Taking art from regular spaces to pretty much on anything.
ALM: Everything is your canvas and you have had a lot of canvases over the years, but what else are you itching to get your art on?
LS: Spaceships! Technically we are already working on something.
ALM: What are your 3 favourite African cities?
LS: Lagos! Look at us! The vibe here is so amazing, I meet such great minds everytime i'm here.  There is something so inspirational about Lagos. Living in Lagos prepared me for living in New York. I can read people almost like a book, something about relating with people in Lagos allows you to relate with people from different backgrounds and ideologies because it is such a melting pot for people from all over Nigeria and even West Africa.
Johannesburg I also really like. I lived in Johannesburg for 11 months as an artist…and a lawyer. I was still trying to figure out if I wanted to go into art full time or be a lawyer as well, but living there was cool until I began to feel some xenophobia..but I also met tonnes of amazing people. They have beautiful people, beautiful music..oh my God! the music is amazing, I have great friends who are Xhosa and I absolutely love the food and the culture.
Accra, I also love..some people may fight me on it.. Ok, so maybe Accra & Nairobi are a tie. I haven't been to Nairobi but I have a lot of fans in Nairobi and I am itching to go there. People are constantly inviting me to Nairobi and I am really excited to go there.
ALM: What is the most expensive thing that you have bought for yourself?
LS: Hmmn..probably a car. A while back I bought a Nissan Pathfinder but in the last 3 years would probably be the Prada sunglasses that i'm wearing now. Oh! I remember now! it is definitely my Sony camera.
ALM: As a Nigerian born talent getting so much international attention, what is your honest advice for luxury goods coming out of Africa?
LS: Take advantage of the art here! There is a new wave right now with a lot of people and brands looking into Africa for inspiration, and this is to sell stuff globally. On the Fashion runways this last season, I saw a lot of African inspired stuff in different parts of the world. As Africans, we should not be the last to be a part of this..we should be leading the narrative…this is ours..we should not have to wait for Beyonce to say this is great and then we think it's great because we have always had it. A lot of young Africans are doing amazing things, so I think luxury brands coming out of Africa should take advantage of that and put it out there because people out there are genuinely interested and want to see that..but hey, what do I know?
ALM: What are 3 random things that most people don't know about you?
LS: I've been homeless in New York before. My dad and I fought a lot and we didn't even speak for years, and…. I look a lot younger than I am.
ALM: Complete the sentence 'I never leave home without…'?
LS: I never leave home without some paint on my body and my paint pen.
'In Conversation with' by ASPIRE Luxury Magazine celebrates stars, influencers, celebrities and public figures, shining a spotlight on their lives and the incredible stories they have to share.