For Givenchy's spring/summer 2019 collection from Safilo, artistic director Clare Waight Keller transforms the GV Mask (first seen in her spring/summer 2018 collection) into a striking piece of jeweled eyewear.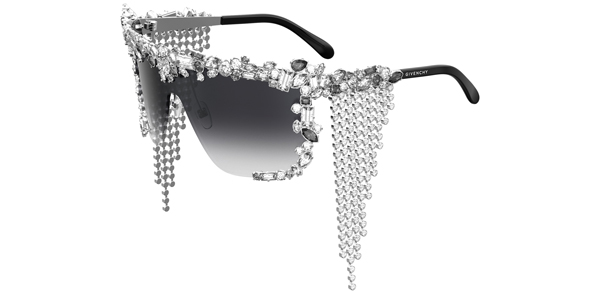 The GV Shower (GV 7136/S) is a transformative piece of eyewear that amps up the drama and shows off the abstract notion of mirrors, making a connection with this season's Givenchy collection. This style was featured in still photos for this season's advertising campaign. "Like the Podium jewelry line, this style is inspired by rain showers and is rendered in precious-looking materials, a metaphor for nature's perpetual state of transformation: in springtime, ice melts into water," the company stated.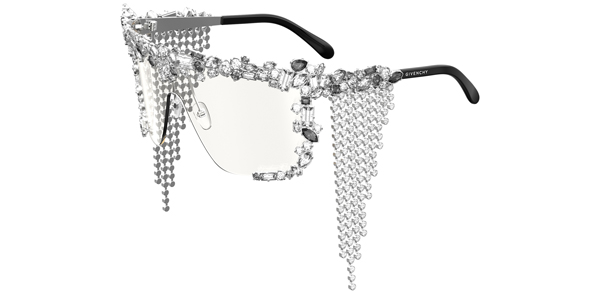 This model features stylistic details that can be seen in the hundreds of hand-applied Swarovski crystals that embellish this style's linear mask base. These jewels spill into a crystal cascade at the temples. Crystal fringe that hangs from the upper part of the temples shimmer like raindrop around the face of the wearer.
Created in a limited series, the GV Shower is available with clear or tinted gray lenses, and with adjustable nose pads for ease.
This model will be available at Givenchy boutiques, high-end opticians and leading department stores this April.
The GIVENCHY collection of sunglasses and optical frames is produced and distributed by Safilo Group, a worldwide leader in the design, manufacturing and distribution of sunglasses, optical frames, sports eyewear and products. Thanks to strong craftsmanship expertise dating back to 1878, Safilo translates its design projects into high-quality projects created according to the Italian tradition.